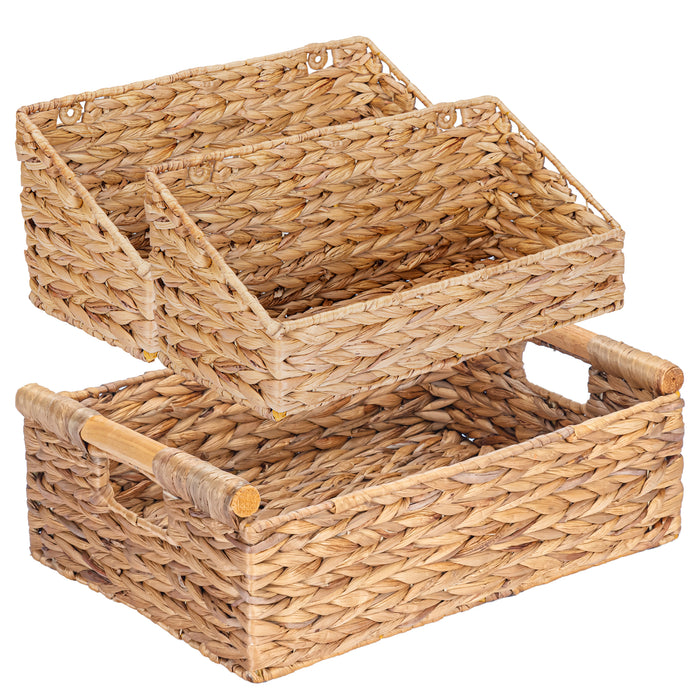 Wall Water Hyacinth Basket for Storage
[INSIDE THE BOX]:

Set of 3 Wicker Baskets

[DIMENSION & SIZE]:

Large Wicker Basket: 16.5 x 11 x 5.5 (L x W x H) and 2 Hanging Storage Baskets : 14.2 x 6.3 x 6.3H (L x W x H) (front is 2.9H inches).

[EFFICIENT]:

These baskets are elegant and traditional in style, and they look excellent in any room in your house. These baskets can be used for storing dirty clothes, household items, laundry, children's toys, groceries, etc.

[STORE IN ANY ROOM]:

A flexible storage solution for a variety of objects, such as clothing, accessories on the dresser, toiletries in the bathroom, office supplies, general home items in cabinets, and bookshelves or on the floor.

[THE DESIGN]:

2 small baskets with three using methods, putting it on any flat, hanging it with hooks or nails. The basket features a durable wire frame and is lightweight, making it easy to carry from room to room.

[LONG-LASTING MATERIAL]:

Handcrafted using the high-quality Water Hyacinth. These baskets are made with a tight wicker weave, designed for sturdiness and longevity.

[CAUTION] :

To avoid moisture and steam, always keep the baskets in a dry and open space. Regularly clean the wicker baskets with a dry towel and then expose them to the sun once every 2 weeks

[CUSTOMER SERVICE]:

With our famous 100% satisfaction, you can have peace of mind. If for any reason you're not completely happy with your purchase—if it breaks, if it's damaged in shipping, or any other reason—simply let us know and we will definitely assist you!