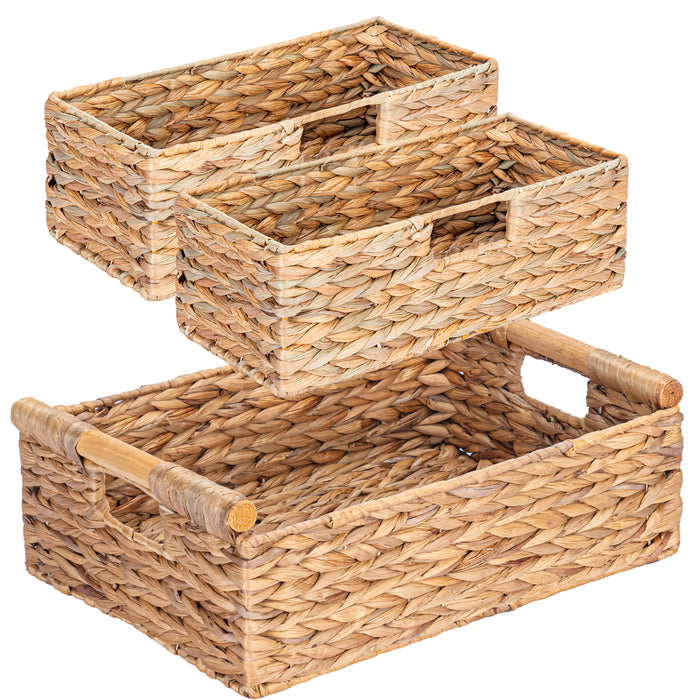 Water Hyacinth Toilet Paper Baskets
[INSIDE THE BOX]:

Set of 3 Wicker Baskets

[DIMENSION & SIZE]:

Large Wicker Basket: 16.5 x 11 x 5.5 (L x W x H) and 2 Small Wicker Baskets: 14.2 x 6.3 x 4.7 (L x W x H)

[VERSATILE]:

Basket works well as a multi-purpose drop tray for storing household stuffs and belongings in the bedroom, bathroom, closet, kids room. Keeping your house organized and clutter-free. The large basket is equipped with handles, which are easy to take and carry. Open-front storage bins are so lightweight and portable so you can use them to keep all your goods and necessities in one place.

[NATURE-INSPIRED]:

The water hyacinth baskets, which draw their inspiration from nature, highlight the neutral colors of natural materials and the appearance of their roughness, which adds incredible warmth and richness to any area.

[DECORATIVE BASKET]:

Restore the warmth and natural appearance of home organization and plant covering. With their harmonious combination of fashionable appearance and usefulness, woven baskets are the ideal choice.

[WELL-CHOSEN MATERIAL]:

To ensure long-lasting durability and sustainability, our wicker baskets are manufactured from Water Hyacinth by skilled Vietnamese artisans.

[CAUTION] :

To avoid moisture and steam, always keep the baskets in a dry and open space. Regularly clean the wicker baskets with a dry towel and then expose them to the sun once every 2 weeks

[CUSTOMER SERVICE]:

With our famous 100% satisfaction, you can have peace of mind. If for any reason you're not completely happy with your purchase—if it breaks, if it's damaged in shipping, or any other reason—simply let us know and we will definitely assist you!