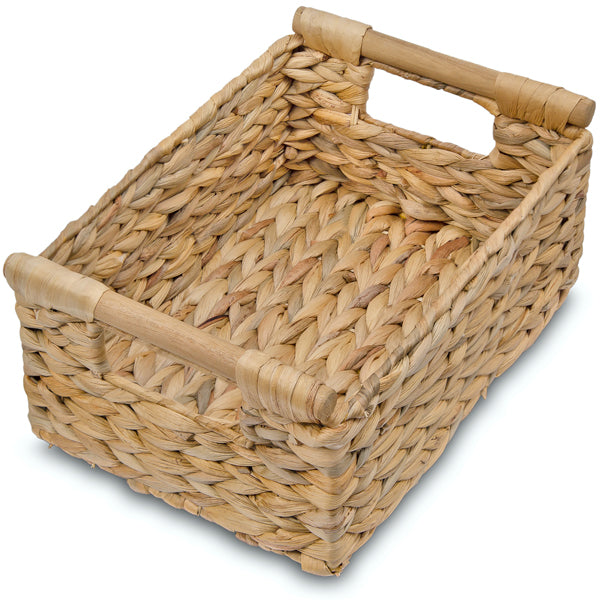 Small Water Hyacinth Baskets - Low
[INSIDE THE BOX]:

Small Wicker Basket

[DIMENSION & SIZE]:

Small Basket: 11.6"L x 8.1"W x 4.9"H.

[MULTIPURPOSE]:

Wicker basket is man-made products into containers used for storing, carrying or displaying things. They can be used as decorations or to exhibit items like flowers. In particular, some wicker baskets are used as a trap to contain fruits, grains, vegetables,.. Some more advanced countries use large wicker baskets as a clothes hamper or it is used strictly for aesthetic purposes on display in a home or shop.

[PREMIUM MATERIALS]:

Wicker baskets are superior to many other products due to their light weight and durability after they are weaved. They are constructed of an organic substance. With careful attention, each storage basket is handwoven from 100% Pure Water Hyacinth to provide the ideal blend of quality, attractiveness.

[A STYLING ITEMS]:

Wicker basket for shelves brings a touch of coastal charm to your home decor. They can be stacked, provide a ton of storage, and add a contemporary touch to any home's decor. Personalize your decorative storage bin combined with practical and ornamental forms that matches your lovely home. These basket are not only household goods in helping with your home storage, but also it as a charming decoration

[WOVEN HANDLE]

The large basket is equipped with handles, which are easy to take and carry. They are attached with sturdy metal, assuring their rigidity and durability for daily usage. Our handmade handle that adds a classic touch and provides a strong and comfort grip to pull and carry around.

[A UNIQUE DIY GIFTS]:

A practical gift for anyone who supports a plastic-free environment, our rectangle decorative baskets are a terrific way to promote a sustainable lifestyle. Refreshing design and subtle texture make these baskets look stunning anywhere you put them.

[CAUTION] :

To avoid moisture and steam, always keep the baskets in a dry and open space. Regularly clean the wicker baskets with a dry towel and then expose them to the sun once every 2 weeks

[CUSTOMER SERVICE]:

With our famous 100% satisfaction, you can have peace of mind. If for any reason you're not completely happy with your purchase—if it breaks, if it's damaged in shipping, or any other reason—simply let us know and we will definitely assist you!