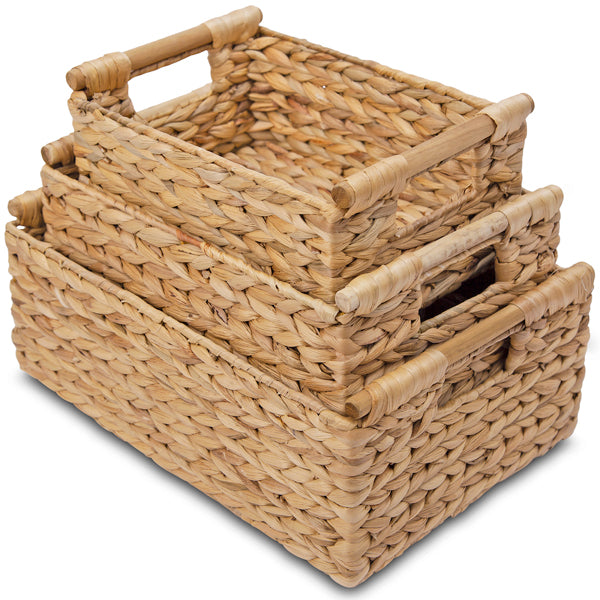 Set of 3 Water Hyacinth Baskets - Low
[INSIDE THE BOX]:

Set of 3 Wicker Baskets

[DIMENSION & SIZE]:

Large Basket: 15.5"L x 10.8"W x 6.2"H

Medium Basket: 13.6"L x 9.5"W x 5.6"H

Small Basket: 11.6"L x 8.1"W x 4.9"H.

[FROM VIETNAM]:

Making baskets from water hyacinth has long been a tradition in VietNam. With the intention of bringing the hearts and souls of Vietnamese people to their foreign acquaintances, we created our stunning wicker basket with handles. It will undoubtedly accomplish your purposes.

[FUNCTIONAL]:

The kitchen, bathroom, cabinets, hutch, closet, and entertainment center can all be organized and optimized with the help of these Hyacinth storage basket. Adding some fascinating texture and lessening the clutter. It provides an efficient way to get hold of all your belongings and necessities.

[WELL-SELECTED MATERIALS]:

Our wicker storage basket for shelves is made of water hyacinth and woven by hand over a sturdy wire frame to offer durability. The wooden handles on both sides of the wicker basket are not only attractive, but they also make it easier for you to carry. With cut-out handles, you can easily move all the stuff at once.

[A "MUST-HAVE" DECOR COLLECTION]:

A wicker basket with handles is an inexpensive way to change the appearance of your house. With their natural style, the medium baskets for organizing produce gorgeous neutral backdrops. A refreshing design and subtle texture make these rectangular baskets look stunning anywhere you put them.

[A SPECIAL DIY GIFTS]:

A practical gift for anyone who supports a plastic-free environment, our rectangle decorative baskets are a terrific way to promote a sustainable lifestyle. Refreshing design and subtle texture make these baskets look stunning anywhere you put them.

[CAUTION] :

To avoid moisture and steam, always keep the baskets in a dry and open space. Regularly clean the wicker baskets with a dry towel and then expose them to the sun once every 2 weeks

[CUSTOMER SERVICE]:

With our famous 100% satisfaction, you can have peace of mind. If for any reason you're not completely happy with your purchase—if it breaks, if it's damaged in shipping, or any other reason—simply let us know and we will definitely assist you!