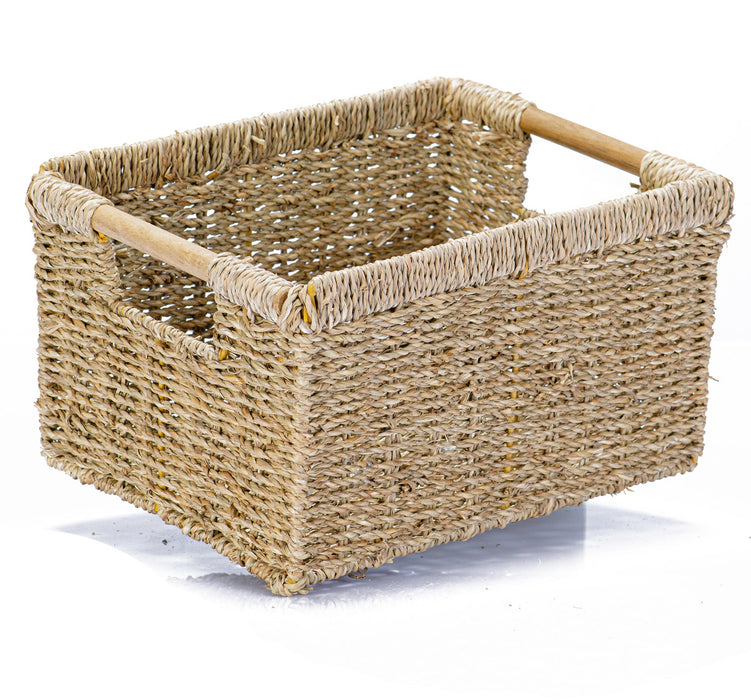 Medium Seagrass Storage Basket for Living Room - High
[INSIDE THE BOX]:

A Wicker Baskets

[DIMENSION & SIZE]:

Medium Basket: 12"L x 8.9"W x 6.7"H

[In Vietnam]

Vietnam has a long-standing tradition of manufacturing baskets from Seagrass. A little touch of nature will enter your warm house through this charming basket, brightening the area. Your favorite areas will be given fresh vitality by it. You may put it anyplace in your area.

[Aesthetic design]

All interior design styles work with the neutral colors of our wicker baskets. Despite having a simple appearance, their durable and moveable core design allows them to be set on a variety of tables and cabinets. They will also happily handle your cookware, office materials, and children's toys while maintaining a neat space!

[Green material]

Using natural materials, Vietnamese artisans hand-weave this storage basket. Seagrass that is entirely natural and a strong iron frame were used to carefully create them. Elegant wooden handles on either side of the wicker basket help you carry it more easily. If the handles have been removed, you can move everything at once without difficulty.

[A good sense]

The addition of wood knobs and a light neutral tone creates a cozy and elegant atmosphere. It is a stylish adornment that complements any lodge or cabin well because of its woven rectangular design and cut-out handles. The set is mobile and may be positioned on desks or cabinets. It functions both as a decorative accent and a storage basket!

[CAUTION] :

To avoid moisture and steam, always keep the baskets in a dry and open space. Regularly clean the wicker baskets with a dry towel and then expose them to the sun once every 2 weeks

[CUSTOMER SERVICE]:

With our famous 100% satisfaction, you can have peace of mind. If for any reason you're not completely happy with your purchase—if it breaks, if it's damaged in shipping, or any other reason—simply let us know and we will definitely assist you!