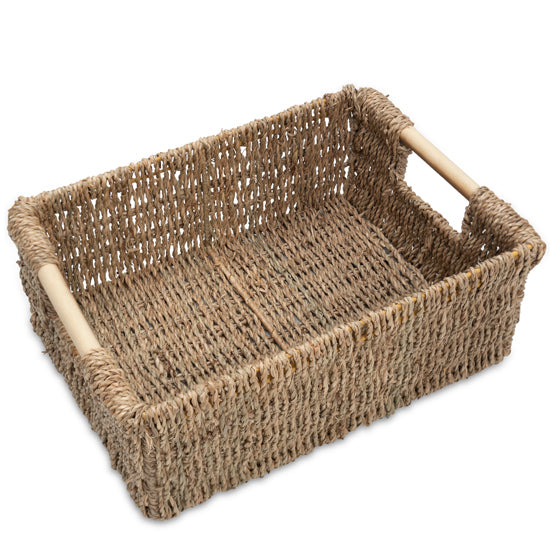 Medium Natural Seagrass Storage Basket with Handle - Low
[INSIDE THE BOX]:

A Wicker Baskets

[DIMENSION & SIZE]:

Medium Basket: 13.4"L x 9.3"W x 4.9"H

[Vietnam production]

These wicker storage basket are produced in Vietnam using materials from the area. All manual labor is used to duplicate our items. This attractive pantry baskets will provide brightness and a sense of nature to your cozy house. Put it in your favorite rooms to liven the space up.

[All in one basket]

Our organization basket are the best option for you if you're searching for a simple and stylish storage solution or the ideal decorative item to complement the design of your area. The cabinets, hutch, closet, entertainment center, kitchen, bathroom, and other spaces may all be sorted and made more functional with the help of these wicker baskets. All of your things and necessities may be stored there quickly and easily.

[High Quality]

Natural seagrass are among the plants that grow the quickest, therefore collecting them for use in commerce also improves the environment. Due to their unusual thick weave that gives them a vibrant, textured appearance, these natural woven baskets are ideal for your home's kitchen, pantry, or bathroom.

[Storage option]

These seagrass baskets may be conveniently stored in desks, drawers, shelves, and other parts of the home. Natural seagrass weaving and a strong wire frame give the baskets their long lifespan. These multi-purpose baskets offer a practical and classically stylish storage option, and they make a lovely addition to any room.

[CAUTION] :

To avoid moisture and steam, always keep the baskets in a dry and open space. Regularly clean the wicker basket with handles with a dry towel and then expose them to the sun once every 2 weeks

[CUSTOMER SERVICE]:

With our famous 100% satisfaction, you can have peace of mind. If for any reason you're not completely happy with your purchase—if it breaks, if it's damaged in shipping, or any other reason—simply let us know and we will definitely assist you!