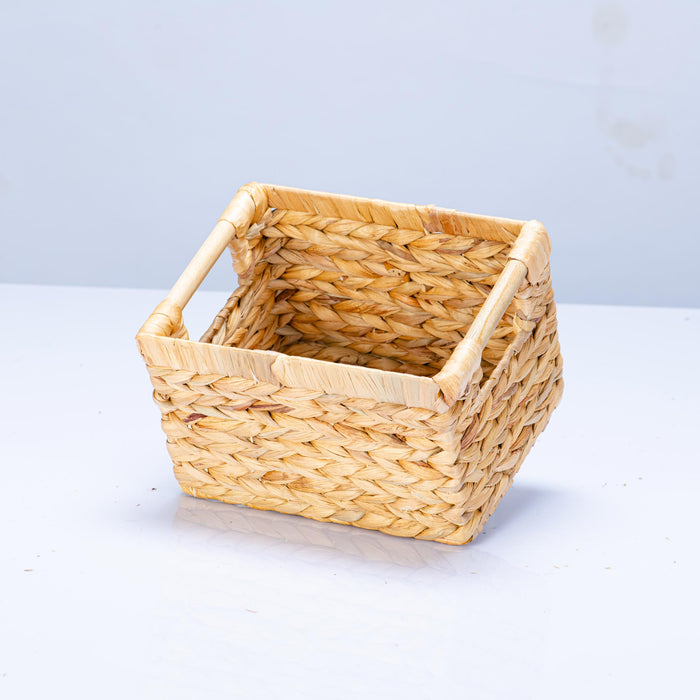 Small Water Hyacinth Baskets for Storage - High
[INSIDE THE BOX]:

Small Wicker Basket

[DIMENSION & SIZE]:

Small Basket: 10.2"L x 7.5"W x 6.1"H

[OUR BASKET]:

For any interior design style, our wicker basket have colors with neutral tones. Their fundamental design makes them durable and portable to be placed on any tables and cabinets, despite the fact that they appear to be simple. Additionally, they will cheerfully hold your utensils, stationary, and children's toys, keeping your space organized!

[FUNCTIONAL AND VERSATILE]:

Woven storage baskets is particularly useful for storing and organizing small items on open shelves. Adding some fascinating texture and lessening the clutter. It provides an efficient way to get hold of all your belongings and necessities.

[WATER HYACINTH]:

Our under shelf basket are handcrafted with care using 100% Natural Water Hyacinth and an Iron Frame to offer durability. The wooden handles on both sides of the wicker basket are not only attractive, but they also make it easier for you to carry. With cut-out handles, you can easily move all the stuff at once.

[PORTABLE BASKET]:

The study handles make these ideals for upper shelves, you can use the handles to pull them down. They are easy to grab and transport to kitchen countertops, islands or tables.

[A SPECIAL DIY GIFTS]:

A practical gift for anyone who supports a plastic-free environment, our water hyacinth baskets are a terrific way to promote a sustainable lifestyle. Refreshing design and subtle texture make these baskets look stunning anywhere you put them.

[CAUTION] :

To avoid moisture and steam, always keep the baskets in a dry and open space. Regularly clean the wicker baskets with a dry towel and then expose them to the sun once every 2 weeks

[CUSTOMER SERVICE]:

With our famous 100% satisfaction, you can have peace of mind. If for any reason you're not completely happy with your purchase—if it breaks, if it's damaged in shipping, or any other reason—simply let us know and we will definitely assist you!