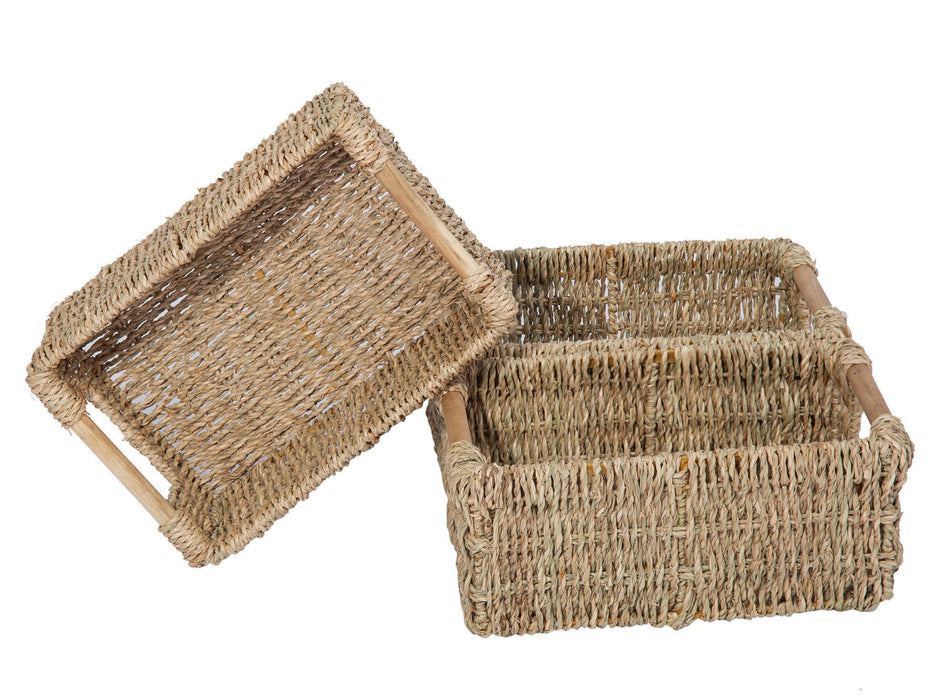 3 Small Decorative Seagrass Wicker Baskets - Low
✅ WICKER STORAGE BASKETS - Whether it be by way of pure decor, storage, or organization for kitchen, pantry, or bathroom, these natural woven baskets suit your home in every way. The basket is great for magazines, games, pet toys, media, household items.
✅ NATURAL & HIGH QUALITY - Our wicker baskets for shelves are made of Seagrass, a natural material with an iron frame for sturdy and durable storage. The nice wooden handles on both sides are to help you easily carry the wicker baskets.
✅ IDEAL FOR HOME - Natural seagrass baskets are an easy and affordable way to change the style of your home. With their natural design, these baskets wicker make nice neutral backdrops and can brighten your day as well as impress your guests.
✅ FROM VIETNAM - The handicraft of making rattan wares from seagrass has become a Vietnamese tradition for years. Wicker baskets made of natural Seagrass promote a healthy world. These baskets were born with a mission to deliver Vietnamese hearts and souls to international friends. It will definitely serve your purpose well.
✅ SMALL WICKER BASKETS: 11.7"L x 7.9"W x 4.3"H. These small rectangular wicker baskets are convenient and easy to storage for drawers, shelves, desks, or anywhere in the house. Please kindly make allowances for slight variations due to the handcrafted nature of these goods. Just use a damp cloth and wipe it gently for cleaning.
Please note that these products are handmade and the sizes may vary ±1 inch.