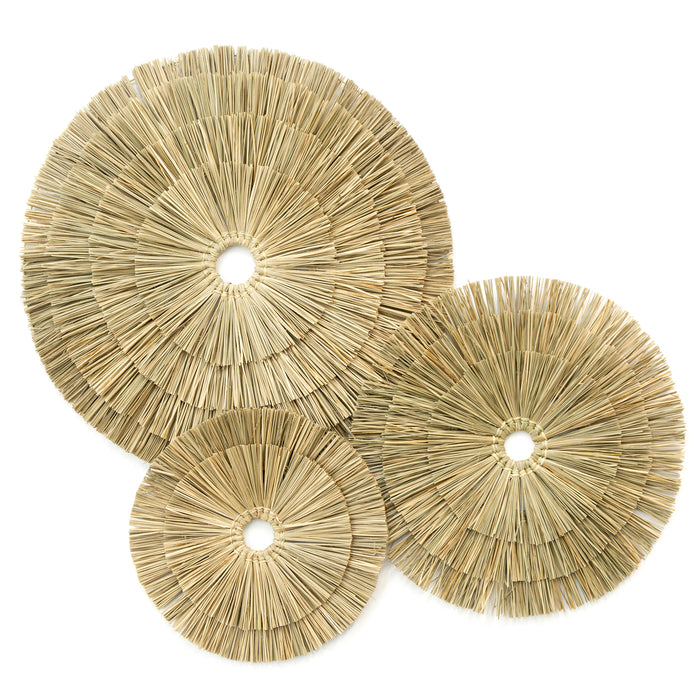 Seagrass Wicker Basket Wall Décor Set – 3pcs Flat Baskets
[INSIDE THE BOX]:

Set of Wall Decor Baskets

[DIMENSION]:

3-Piece Set: The package comes with a total of 3 decorative plates for wall hanging in different sizes: 27.5-inch, 22-inch, and 15.75-inch. Each wicker hanging basket is handmade which makes it unique.

[Vietnam product]:

Originally from a community in Ninh Binh with only natural resources and artisans. We want to make sure that Vietnam's long-standing artisan community maintains its traditions. The potential for development and artisanal spirit are both boundless. It will certainly achieve your goals since it aims to connect Vietnamese people's hearts and souls to their international acquaintances..

[Classy look]:

It is designed to go with both contemporary minimalism and upscale settings. By using this collection of 3 wall baskets, you can give your living area a natural feel and a rustic, bohemian taste. It is straightforward but flexible and functional, and it also makes a wonderful decorative display. The swirling pattern on each enormous circular form of the magnificent wall décor easily draws your eyes to its distinctive pattern.

[Material Goal]:

Water hyacinth, a resilient and long-lasting material that will withstand the test of time, is the only material used in our woven wall décor. We have also included an iron frame for further stability and to guarantee the plaques maintain their shape. They all feature stylish patterns and natural, neutral colors that give your home a new look. Notably, the set's 3 pieces are sufficient to cover the wall above your bed or console in the entryway.

[Customize your place]:

Each wall basket has a hook, making it simple to hang on any wall. Simply use the hanger on the back of the boho wall basket to personalize your room. This collection offers a unique and innovative way to display handcrafted items for interior design. The color tone gives you a new appearance and calms your eyes.

[Easy to hang]:

Because they are lightweight, each basket features a hanging loop at the rear that may be used to hang it on a hook or nail. They can readily rearranged to match the design or your mood..

[CAUTION] :

To avoid moisture and steam, always keep the baskets in a dry and open space. Regularly clean the wicker baskets with a dry towel and then expose them to the sun once every 2 weeks

[CUSTOMER SERVICE]:

With our famous 100% satisfaction, you can have peace of mind. If for any reason you're not completely happy with your purchase—if it breaks, if it's damaged in shipping, or any other reason—simply let us know and we will definitely assist you!