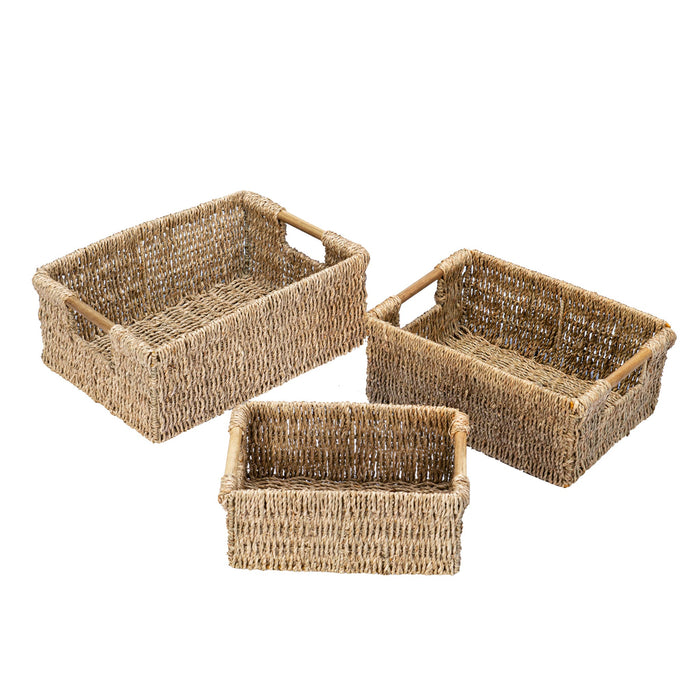 Set of 3 Seagrass Wicker Baskets for Shelves - Low
[INSIDE THE BOX]:

Set of 3 Wicker Baskets

[DIMENSION & SIZE]:

Large Basket: 15.5"L x 10.6"W x 5.5"H

Medium Basket: 13.4"L x 9.3"W x 4.9"H

Small Basket: 11.7"L x 7.9"W x 4.3"H

[A Gift from Vietnam]

Using resources from the region, these wicker storage basket are created in Vietnam. The duplication of our products is done entirely by hand. This charming basket will brighten your environment and provide a touch of nature into your comfy home. Place it in your favorite rooms to bring life to the area.

[Why you must have it]

Whether are you looking for an easy and classic storage solution or for the perfect decorative piece to accent your room's decor, our wicker baskets are the perfect choice for you. With the aid of these wicker baskets, the kitchen, bathroom, cabinets, hutch, closet, and entertainment center can all be arranged and optimized. It offers a quick and easy way to place all of your possessions and essentials.

[Handmade by natural material]

As natural seagrass are among the fastest-growing plants, harvesting them for use in commerce also has environmental benefits. These natural woven baskets are perfect for your home's kitchen, pantry, or bathroom because of their distinctive thick weave, which creates a colorful, textured appearance.

[Design for every home]

These seagrass basket are practical and simple to store in desks, drawers, shelves, and other areas of the house. The baskets are made to last because they are naturally woven from water hyacinth and have a sturdy wire frame. These multi-purpose baskets are a delightful complement to any space and provide a useful and traditionally elegant storage solution.

[CAUTION] :

To avoid moisture and steam, always keep the baskets in a dry and open space. Regularly clean the wicker baskets with a dry towel and then expose them to the sun once every 2 weeks

[CUSTOMER SERVICE]:

With our famous 100% satisfaction, you can have peace of mind. If for any reason you're not completely happy with your purchase—if it breaks, if it's damaged in shipping, or any other reason—simply let us know and we will definitely assist you!