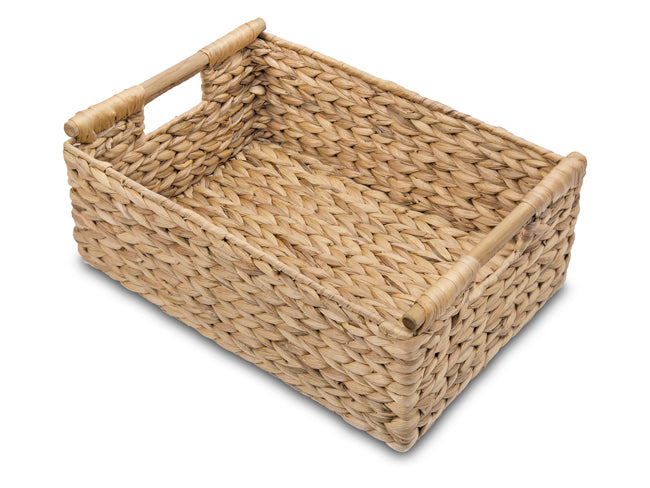 Large Water Hyacinth Basket - Low
[INSIDE THE BOX]:

Large Wicker Basket

[DIMENSION & SIZE]:

Large Basket: 15.5"L x 10.8"W x 6.2"H

[Efficient]:

Woven baskets made of high-quality material can be used outdoors, in the kitchen, and in the living room. Perfect for keeping your room tidy and clutter-free by holding towels, books, snacks, and home cleaning. Made from hand-woven material with a natural color finish that complements any design. Storage baskets with handles make it simple and comfortable to move them about your home.

[LONG-LASTING MATERIALS]:

To offer increased product longevity and durability for daily use, hand-woven water hyacinth baskets are supported by the hand-woven water hyacinth. In the meantime, our handcrafted handle adds a vintage touch and offers a secure grasp for pulling and carrying.

[SPECIFIC DESIGN]:

The hand-woven water hyacinth can be matched to most interior design themes and aesthetics. Pantry baskets serve as a pleasant accent as well as being useful household items for storing things in your home. simple living to make your house a cozy place!

[A SPECIAL DIY GIFTS]:

A practical gift for anyone who supports a plastic-free environment, our rectangle decorative baskets are a terrific way to promote a sustainable lifestyle. Refreshing design and subtle texture make these baskets look stunning anywhere you put them.

[CAUTION] :

To avoid moisture and steam, always keep the baskets in a dry and open space. Regularly clean the wicker baskets with a dry towel and then expose them to the sun once every 2 weeks

[CUSTOMER SERVICE]:

With our famous 100% satisfaction, you can have peace of mind. If for any reason you're not completely happy with your purchase—if it breaks, if it's damaged in shipping, or any other reason—simply let us know and we will definitely assist you!